The Omiya Bonsai Art Museum, Saitama
Opened in 2010, the Omiya Bonsai Art Museum is the world's first publicly run museum dedicated to bonsai art.
It boasts a collection of more than 120 bonsai masterpieces and bonsai-related artifacts such as bonsai pots,
miniature landscape stone called suiseki, books and woodblock prints, etc.
Selected in accordance with the four seasons, about 60 pots of bonsai are always displayed in the garden and some in the gallery.
The Omiya Bonsai Art Museum, Saitama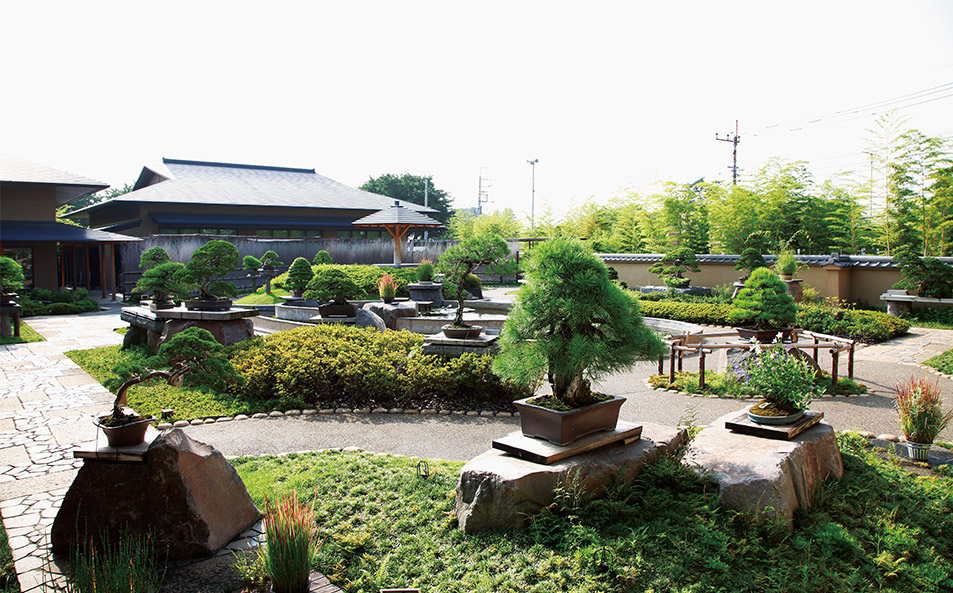 Omiya Bonsai Village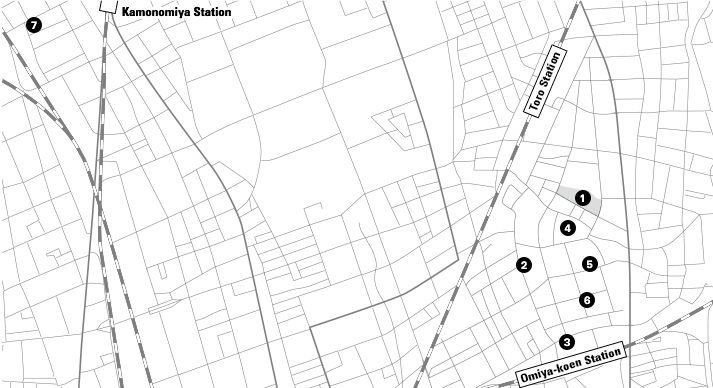 1. The Omiya Bonsai Art Museum

2-24-3 Toro-cho, Kita-ku, Saitama City
331-0804, Japan

2. Toju-en

247 Bonsai-cho, Kita-ku, Saitama City
331-0805, Japan

3. Fuyo-en

96 Bonsai-cho, Kita-ku, Saitama City
331-0805, Japan

4. Mansei-en

285 Bonsai-cho, Kita-ku, Saitama City
331-0805, Japan

5. Kyuka-en

131 Bonsai-cho, Kita-ku, Saitama City
331-0805, Japan

6. Seikou-en

131 Bonsai-cho, Kita-ku, Saitama City
331-0805, Japan

7. Shosetu-en

2-640 Higashi-onari-cho, Kita-ku, Saitama City
331-0814, Japan
Transportation Access Map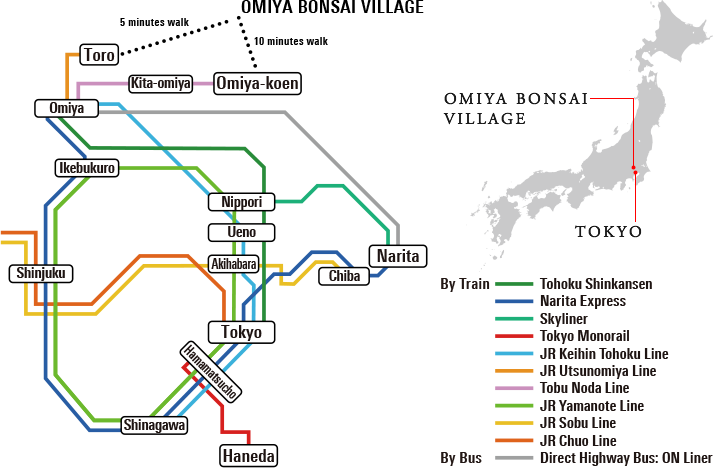 From Tokyo Station to Omiya Station

24 minutes by JR Tohoku Shinkansen

From Nippori Station to Omiya Station

About 36 minutes by JR Keihin-Tohoku Line
(From Narita Airport to Nippori Station by Skyliner fastest in 36 minutes)

From Hamamatsu-cho Station to Omiya Station

About 55 minutes by JR Keihin-Tohoku Line
(From Haneda Airport to Hamamatsu-cho Station fastest in 13 minutes by Tokyo Monorail)
Admission
Hours

9:00-16:30 during March-October
9:00-16:00 during November-February

*Last admission 30 minutes before closing

Closed

Thursday (except for National Holiday)
Closed on December 29 – January 3.

*Temporary close during exhibition preparation.
You can check today's business conditions on the website. http://www.bonsai-art-museum.jp/en/access/