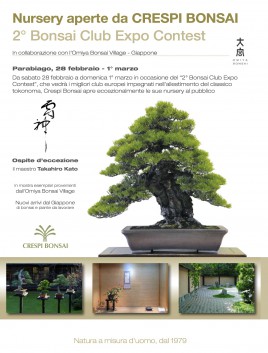 "2nd Bonsai Club Expo Contest" in Parabiago (Mi), from Saturday, February 28 to Sunday, March 1, 2015, in collaboration with Omiya Bonsai Village – Japan.
Crespi Bonsai dedicating a weekend to all those who love bonsai enthusiasts but also to the merely curious, who will have access to the greenhouses, visit the Japanese Gardens and the Crespi Bonsai Museum. A rare opportunity to spend time immersed in the world of bonsai.
Special guest of the event, the master Takahiro Kato, bonsai 5th generation descendant of the famous master Saburo Kato. The teacher is the judge of the "Bonsai Club Expo Contest" reserved to the associations and clubs bonsai.
(Link) Crespi Bonsai
(PDF) Bonsai Club Expo Contest